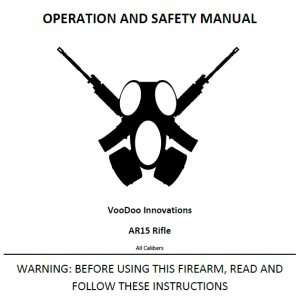 Download Operation & Safety Manual
VooDoo Innovation's Warranty is effective from the original date of purchase at retail, to the original purchaser, for one year. VooDoo Innovations guarantees complete fIrearms, complete uppers, and complete lowers, used under normal conditions, will be free from defects in parts, materials, and workmanship. This guarantee is limited to the repair or replacement of the part or parts which are returned to VooDoo Innovations and which are determined by VooDoo Innovations to be defective. The following items are excluded from this guarantee:
Normal wear of protective fInishes of all metal or plastic parts.
Damage or malfunction resulting from accident, negligence, misuse or unauthorized repair or alteration.
Damage from use of other than factory ammunition meeting SAAMI requirements.
All warranty claims must be submitted to VooDoo Innovations with proof of purchase to receive an RMA number and shipping label. Items sent to VooDoo Innovations without an RMA will be refused or returned to sender.
For Warranty Registration, please select REGISTRATION below and complete the form. For Warranty Claims, please select CLAIMS below and complete the form, or email support@voodooinnovations.com or call 866-366-4900.